August 6 – 7, 2017
It seems many authors are facing the challenges of a changing reader landscape. As a writer, I pen many ideas and thoughts because I hope to remember them myself.  This is just a word of encouragement I shared with a friend, but it applies to any dream when it seems you are flying against the wind.
Have you ever watched a bird fly in heavy wind?
I once watched a bird leap into the air, open her wings, and hit a brisk current of air that shoved her back almost into a flip before she made her wing adjustment. However, her most fervent effort yielded only a hover though her beak pressed into the wind, her wings beat to exhaustion, and her tiny black feet tucked tight against her white feathers—she never moved. Finally, she spread her wings wide culling the current to her design and let it lift her up and to her left where she found the current she wanted and darted ahead in the direction she had originally sought. You're not sacrificing your dream when you listen to the wind. You can beat your wings to exhaustion and never move or you can spread your wings and let the wind lift you to the current that can carry you to your destination. You already know you can fly.
I'm deeper into the rewrite of manuscript II and I have a scene that has two options. It is a component of the plot, but not the largest piece so I'm undecided about which path to choose. For now I'm going to stick with the rewrite I created because the goal right now is to get the rewrite from paper to typed form. However, I thought I would break away from it to write my thoughts down and make a note to myself to do a practice writing exercise with both options to see how they turn out. I've been writing at a home office this week. Take a peep at our not-ugly ducklings.
.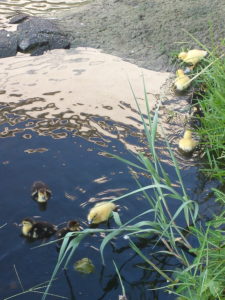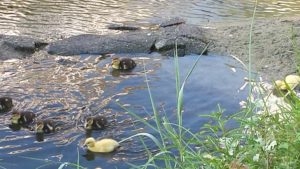 .