August 15-16, 2017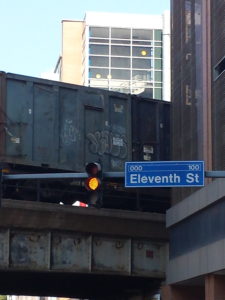 In 2012 Superhero and I were visiting a city and I fell in love with its diversity, history, and character. I decided it would be home for my manuscript. My writing career was non existent at that time, but I had been bitten. I knew I needed to ground the story in a real place so I could feel, taste, smell, and breathe it, even if I modified it into a science fiction world. It would have roots on earth and this place spoke to me.
Now five years later I have my first manuscript tucked away (it was a little too epic—laugh). An author at a training once told me I had three books in chapter one. I've grown as a writer, split some of the first manuscript into chewable chunks, added some new, and just kept writing. I'm rewriting the second manuscript now and both my writing and project-n have me back in my original city taking it all in again.
Some of my dear friends who happen to be Browns and Eagles fans may disown me, but the last time we spoke they said they loved me no matter what (we will see—grin). Wait till they find out Pittsburgh – with its mountains, water confluence, history, and hidden places – sparked my writing mind enough to make it home to my main character.
However, I knew I'd made the right choice when Superhero looked up from the phone yesterday, as we planned our travel and chatted about things in our world, "Did you know Pittsburgh is called the city of bridges?"
I paused in the kitchen and dried my hands letting the words sink in. I hadn't known the nickname for the city, but it seemed perfect somehow.
It feels good to learn this now and I  I can't imagine a better time to be rewriting my work about a world held together by ancient bridges.
Today I send off the next twenty three pages of my rewrite to my critique partner. I wasn't happy with the last couple pages the day I finished them, but read over them Monday and liked them better after they sat for a while. I think I had to ripen, not the work.
I shared a picture earlier this week of the caterpillars we found in the garden. I struggled to keep the aphids at bay this year. Wiping them off by hand or using water works, but I am away more frequent and it doesn't take long for one to become an army. However, it seems I did well enough for a mother to feel it was a good place for her eggs. There are five of them chomping away.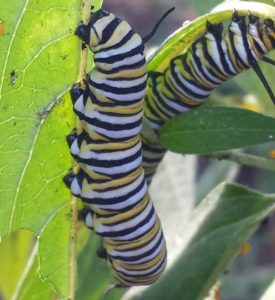 They are some hungry caterpillars. When I saw them I thought about one of the authors I enjoy who started helping writers by evaluating the first lines of their chapters. The pages on her blog are filling up with hungry writers eager to learn from a talented author. I'm excited. She's been away for a while and this felt like getting a message that a dear friend had just moved back to town. I had a deadline set to get a project to my editor so I wanted to finish that first.   However, I'm going to post tonight or tomorrow to get her feedback. Here is first lines from chapter one. However, my prologue may become chapter one and this chapter two. I'm still thinking about it.
"Acquisition of immortality is the death of time." Xenoselah whispered, peering out at the darkness beyond the space tempered glass of the Orbiter.
Rezil leaned on the table between them. "No, my friend, simultaneity is the death of time. Immortality simply forgets it exists."
"I may forget time exists…" Xenoselah turned from the window, taking in the features of his old friend. "…but not those I've lost to it."
Rezil's next words caught as he tried to speak. Xenos spoke not only of the past, but the future. His future. Instead he asked, "Why do you do it? Why do the Tokole regenerate?" The question still carried his selfish hope that there was another way.